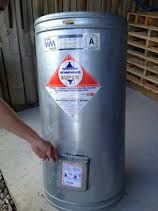 This is the most common system in older New Zealand houses. If you can stop the flow of hot water from the tap with your finger, you probably have a low-pressure system. If you have a header tank in the ceiling, that's another clue.
Low pressure cylinders are usually made from copper and tend to last at least 20-40 years. This can life expectancy can be significantly reduced in the case of a hard bore water supply
This option has the lowest installed costs, but not usually the lowest running cost.
The main attractions: cheap to install, long-lasting and usually lower shower-water usage.
The main drawbacks: slow filling of bath or washing machine, the shower may not have sufficient flow and if the plumber hasn't got the pipe work right it may go cold when other taps are turned on.
- If your Low Pressure Cylinder shows signs of leakage and you just want it replaced with a new Low-pressure cylinder in most cases a budget price would be between $1600 - $2100 incl GST
- If would like the benefit of better shower pressure or are considering upgrading you plumbing fixtures in the future to modern mains-pressure tap ware then now is the most cost effective time to upgrade to a Mains - Pressure Cylinder . In most cases a budget price would be between $2000 - $2800 incl GST