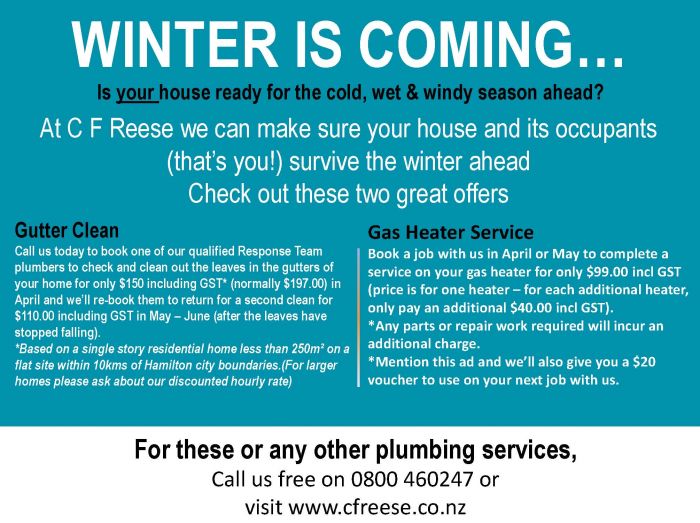 Gas Heater Danger
It is essential that your home's gas heating appliances are in good, sound working order and have been checked in the last 12 months by a qualified gas-fitter.
Gas appliances can kill!
Carbon monoxide which is a by-product of incomplete combustion is lethal and can kill without warning in just a matter of hours. All gas appliances should be checked at least every 12 months by a qualified gas-fitter.
An incorrectly adjusted flame or dirty flame with yellow tipping is often caused by dust build up, lack of maintenance or poor installation and can be producing lethal carbon monoxide gas into your home. In addition to this, an incorrectly adjusted or non-maintained appliance is not efficient and doesn't always produce the desired heat, wasting energy.
Prior to the winter setting in and the use of these appliances, they should be checked, serviced and given a clean bill of health.
Blocked Gutters
As leaves begin to change colour and fall from the trees it is essential to ensure that your gutters can cope with the additional volume of rain that is likely to fall. A clogged spouting and drainage system will not only cause damage to your gutters and the potential flooding of water back into your home as the gutters overflow, it is likely the foundations of your home will become wet and a breeding ground for mould and mildew.
It's important to make sure your gutters are clean at the start of autumn and able to take the first fall leaves and then be cleaned again in the middle of winter once the leaves have stopped falling. Ideally, dependent on the type of trees around your home, this would generally occur in mid-April and then again in May - June.
If you are thinking of cleaning your gutters yourself, make sure you have an appropriate ladder and safety equipment as thousands of people get injured from performing basic maintenance tasks like this on their homes every year!